COVID has affected every industry but none more so than the hospitality industry. Many restaurants and hotels/motels have had to close permanently because of a lack of business due to COVID.
In one way or another, the trends below are a reaction to how COVID has changed how businesses will need to operate in the "new normal". Some are fundamental changes that will not necessitate massive modifications by organizations, while others may require companies to spend money on changes to help facilitate future growth.
While there are many different trends out there, let's take a look at six that should make an impact on your business:
Make Cleanliness and Sanitation Your Top Priority
While this trend should not be anything new to the hospitality industry, it has taken on a whole new meaning with the onset of COVID. Cleanliness has always been an essential part of any hospitality business. Now consumers want to know your business is utilizing proper sanitation techniques.
Show your customers you are taking sanitation seriously by offering hand sanitizer at multiple places throughout your business, especially at entrances/exits and near counters where they may interact with other people. Make a show of having staff thoroughly clean tables, chairs, and other surfaces after customers leave a table in a restaurant or wiping down the check-in desk after assisting a customer.
Benefits: COVID has changed many people's attitudes towards sanitation. Showing you are taking the necessary precautions and following through with them will instill confidence in your customers and make it more likely they will return (and hopefully tell their friends!).
Add or Transform Outdoor Spaces
For many, being outdoors makes them feel safer with regards to COVID. Do you have outdoor spaces you can transform in to a dining or outdoor bar area? Hotel owners - do you have places you could put additional outdoor seating with lighting or a fire pit for evenings?
These examples are some options to give customers who prefer being outside more for dining or socializing. Not all customers want to eat fast food in their cars, nor do they want to stay in their hotel room during most of their stay. Adding outdoor dining or leisure areas can help attract customers who might typically stay home.
Benefits: You are already paying for the square footage, so why not transform it to make money for your business?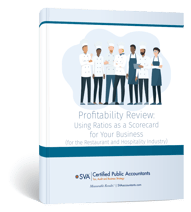 eGuide: Using Ratios as a Scorecard For Your Business
Offer Locally Produced Products
Part of traveling is enjoying the local sights and, of course, the food. Many travelers want to experience the local culture and cuisine but are wary of venturing to places other than their hotel or more well-known dining establishments. If you are a hotel with dining facilities or a chain restaurant, add some local foods to your menu. Maybe it's locally caught walleye for Friday fish fry or beef items from a local farm. Whatever it is, make sure to recognize where the product(s) came from locally.
Benefits: With many mom-and-pop restaurants permanently closing due to COVID, businesses need to continue offering local foods to customers. Recognizing the local source is a beautiful way to generate community support for your business and drive word-of-mouth traffic.
Embrace Sustainability
Environmental concerns continue to grow among consumers, and they are looking increasingly at what businesses are doing to leave a smaller footprint on the environment. For many, it has become a deciding factor where they spend their money.
Is your business "eco-friendly"? Here are a couple of ideas you can implement:
Give your guests the option to have their hotel linens replaced. For guests staying a couple of days, they are okay with using the same towels and sleeping on the same sheets. They do it that way at home anyway. Save water and electricity by washing and drying less laundry.
Replace regular light bulbs with longer-lasting, energy-efficient LED light bulbs. The results will be lower electricity usage and less spent replacing light bulbs.
Benefits: This is the only livable planet we have. By showing your readiness and concern for the environment, you will attract an ever-growing customer demographic. Think twice about not practicing what you preach when it comes to sustainability. Customers can sniff out businesses that say one thing and do another, and this would be a big hit on your reputation.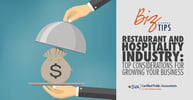 RELATED BIZ TIP: Top Considerations for Growing Your Business
Office Suites for Extended Travelers
Business work and travel have changed quite a bit this last year. Working remotely is not a new concept, but it has become the norm as owners want to keep their employees safe and their businesses running as the world recovers from COVID.
Traveling for business has changed in that travelers tend to stay at their hotel more during their trips. They may make a few on-location trips but spend more time in their rooms than usual. With this being the case, hotels should transform rooms into office suites or something similar for the longer-term business traveler. Provide an office desk and space to do their work during their extended stay. Offer weekly and monthly discounted rates to draw more business travel.
Benefits: Transforming some rooms into these office suites will allow you to attract business travelers, especially those who require extended stays. Reach out to local businesses with out-of-town employees who have stayed with you and showcase your suites. Odds are you will be able to attract additional business from these companies.
Use Technology for Efficiency and Safety
As time goes on, the world's dependence on technology will only increase. Along with all other industries, the hospitality industry must adapt and use technology to its fullest.
Instead of offering physical menus, provide QR codes customers can scan to look at your menu on their phones. Give customers a safer experience but make sure to have some menus handy for those who aren't willing or able to utilize an online menu.
Email or text receipts to customers or give them the ability to pay right at the table. Reduce paper waste and the necessity of handing objects back and forth between people. It keeps things a bit more sanitary.
Utilize apps for hotel check-in or allow customers to order food from their table. Add a reward program based on the number of visits or money spent to give customers an added benefit.
Benefits: Technology offers hotels and restaurants ways to increase efficiency and provide a safe environment for their customers and staff. Give your customers alternative ways to interact with your business, providing them with a great experience and many return visits.
The Road Ahead
Yes, the hospitality industry struggled during 2020, but there is light at the end of the tunnel. Customers will have different expectations as restrictions are slowly lifted. It's time to adapt your hospitality business to the changes that lie ahead.
If you want to make changes but unsure how to proceed, please reach out to one of our hospitality experts for more information.
© SVA Certified Public Accountants