The Consolidated Appropriations Act of 2021 (CAA) was signed into law in late December. The sprawling legislation contains billions of dollars in additional stimulus funding in response to the COVID-19 pandemic, as well as numerous unrelated provisions.
For Business the provisions include:
Paycheck Protection Program
Other financial assistance - EIDL
Employee Retention Credit
Deferred payroll taxes
Non-COVID-19 disaster relief
Business meals deduction
Retirement plans
Charitable deductions
Tax extenders
For individuals the provisions include:
Recovery rebates
Unemployment benefits
Housing relief
Retirement relief
Earned income and child tax credits
Medical expense deductions
Charitable contributions
Student loans
Education tax credits
Discharged mortgage debt
Flexible Spending Accounts
Download the full guide which provides details on each of these key provisions.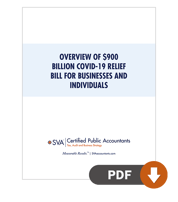 © 2021