The Accommodation and Food Service Sector have seen steady growth over the past 5 years (3.5% annualized rate) and will continue to grow over the next 5 years, according to IBISWorld Sector Report 72. Are you positioned to grow? Check out our top 5 things you should consider.
Do you leverage mobile reservation applications to streamline the booking process?
Consumer convenience is a big consideration when customers are deciding where to eat or stay. Having a mobile application may be beneficial for your business.
How does your company compensate for the seasonality of cash flow?
If your business is located in seasonally lucrative areas, you may need to limit employees or hours of operation during off months. Cash flow is essential and forecasting ensures you have the financial resources to fund your company's growth.
Are you keeping up with consumer trends?
Consumers are becoming increasingly health-conscious which changes demand for your services. Over the next five years the healthy eating index is forecast to grow an annualized 0.6% (IBISWorld). This slight change will have an impact as more individuals seek health-conscious food options. Because healthier products have added cost due to more expensive ingredients, this trend could provide increased profitability.
How do review sites, such as Yelp, Trip Advisor and Google Reviews, impact your sales?
One way to impact sales is to create a favorable online reputation with customer reviews. Remember good news travels fast, but bad news travels even faster and your online reputation matters. Remember to monitor reviews so you can react quickly to feedback.
Do you know how your profit margins compare to your main competitors?
Profit margins vary greatly with businesses that are subject to high levels of competition. Benchmarking to your peers will give you insights into how your business is performing so you can make adjustments as needed. The following chart from IBISWorld shows the Accommodation and Restaurant Industry sector costs breakdown for 2018.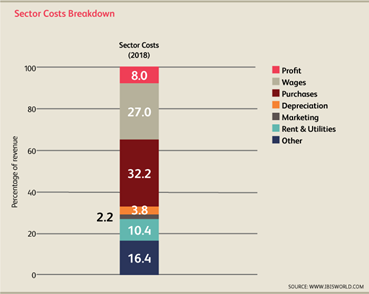 Contact an advisor with industry-specific experience who can focus on your business and assist you in your financial forecasting, budgeting and benchmarking. SVA is here to help.
© 2019